Wallpaper Installation: Unique Styles, Perfect For Your Charlotte Property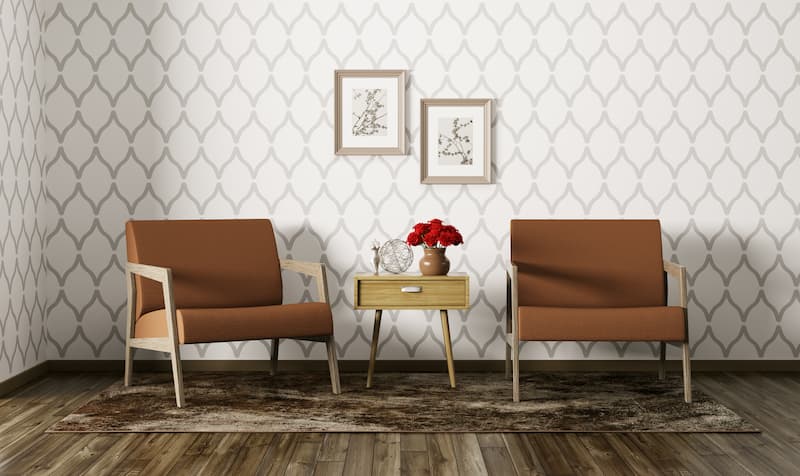 Paintline Painting Charlotte proudly offers expert wallpaper installation services that bring unique styles and artistic flair to your Charlotte property. Our skilled professionals understand the nuances of working with various wallpaper materials, ensuring a flawless application that reflects your individual taste. Whether you're seeking a bold accent wall to make a statement or a subtle pattern to add depth, our team meticulously aligns each piece to achieve a seamless and captivating look.
We take into consideration the specific characteristics of your space, from lighting to architectural features, ensuring that the chosen wallpaper enhances the overall ambiance. With a commitment to precision and an eye for design, Paintline Painting Charlotte transforms your walls into captivating canvases that showcase your personal style and elevate your property's interior aesthetics. When you need a painting contractor for Charlotte jobs, give Paintline Painting Charlotte a call. We're available for wallpaper removal and installation. Call today for wallpaper installation in Charlotte.
Wallcovering Application
Experience the full spectrum of benefits that expert wallcovering application from Paintline Painting Charlotte brings to your Charlotte space. Our skilled professionals ensure a smooth, wrinkle-free installation that not only highlights the beauty of the chosen wallcovering but also extends its lifespan. Properly aligned seams, careful pattern matching, and meticulous attention to detail result in a flawless finish that transforms your walls into works of art. With our proficiency in handling a wide range of wallcovering materials, from traditional wallpapers to modern textures, you can trust us to bring your design vision to life. Beyond aesthetics, our expertise prevents the potential pitfalls of DIY installation, ensuring longevity and a consistent appearance throughout your space. Choose Paintline Painting Charlotte for professional wallcovering application that guarantees a striking, lasting, and professional result.
Ensuring Perfection: The Importance of Professional Wallpaper Installation
Entrust your wallpaper installation to the expertise of professionals to guarantee a flawless and enduring result. Professional installers, like those at Paintline Painting Charlotte, possess the technical skills and specialized knowledge necessary to handle a variety of wallcovering materials and patterns. They ensure precise measurements, proper alignment, and seamless pattern matching, eliminating the risk of unsightly gaps or misalignments. Moreover, professionals have the experience to address any challenges that may arise during installation, providing solutions that DIY attempts might overlook. By hiring experts, you're not only safeguarding the investment in your chosen wallcovering but also enjoying the beauty of a perfectly executed installation that enhances the aesthetics and value of your space.
---
Frequently Asked Wallpaper Installation Questions
While DIY wallpaper installation is possible, hiring a professional offers several advantages. Professionals have the expertise to handle intricate patterns, ensure precise alignment, and manage potential challenges like corners and seams. They possess the tools and knowledge to achieve a flawless finish, reducing the risk of wrinkles, air bubbles, and misalignments that can occur with DIY attempts. Additionally, professionals offer insights on material selection and can save you time and frustration, ensuring that your chosen wallcovering enhances your space to its fullest potential.
In many cases, applying wallpaper over existing wallpaper or paint can lead to issues like peeling, uneven texture, and poor adhesion. For a smooth and long-lasting result, it's generally recommended to remove existing wallpaper and ensure a clean, smooth surface before applying new wallpaper. However, professional installers have the expertise to assess the condition of the existing surface and provide guidance on the best course of action, whether that involves removal or proper preparation for successful wallpaper application.



---
Recent Wallpaper Related Articles
Renew Your Space With These Wallpaper Trends

So you're ready to get started with your wallpaper removal project so that you can change the look of your home's interior? The good news is that you can now go back to a new look – using wallpaper again! Just because you're having wallpaper taken down […]
Contact Our Charlotte Painting Company for Your Next Painting Project Today!