4 Reasons Fall Is The Perfect Time For Exterior Painting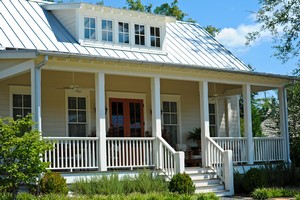 With summer ended, most homeowners are under the impression that the home improvement season has come to an end, but just because the leaves are changing color and temperatures are becoming milder, it doesn't mean you've missed the opportunity to make changes around your home. As it turns out, the fall season is the prime time of year for a number of different projects around the house, and believe it or not, exterior painting is one of them. If your home has been overdue for a new coat of exterior paint, but you just haven't found the right time to get the job done, why not take the time this fall to do so? To help highlight just a few of the many benefits of getting your next exterior painting project performing in the fall, our team of professional Charlotte painting contractors have taken the time to put together this short list that we hope you will read through and enjoy before giving our team of skilled professionals a call to schedule your project.
Scheduling Flexibility
Compared to the busier summer months, painting services during the fall are typically in lower demand, even though the weather is actually better suited to it, and that means most painting contractors are going to have a much easier time scheduling your project at a time that is more convenient for you. With less demand, painting contractors will generally have more open appointments as the season goes on, allowing you to find a time for your project that's most convenient for you as opposed to having to snatch up the first appointment available like you would in the spring or summer.
Less Rain
With the arrival of fall, not only do we get to look forward to milder temperatures, but we also tend to see less rain overall, which is a great thing when it comes to exterior painting. While rain can happen at any time of the year, the fall months generally see less of it than spring or summer, and this is great for exterior painting because moisture is generally a bad thing when it comes to making sure that your paint properly dries and bonds to the surface of your home. By having your home's exterior painted in the fall, you are reducing the chances for rain to spring up and delay your project or keep your paint from drying properly.
Lower Humidity
As we stated above, moisture is generally a bad thing when it comes to exterior paint on your home, and the less of it in the air, the better your paint is going to dry and bond to your home. As the temperatures start to drop a bit during the fall, the humidity in the air also tends to lessen, which is important for the longevity of your new paint. Humidity can have a similar effect to rain when it comes to allowing your paint to properly dry and bond, and the less of it you have in the air, the better.
Cooler Temperatures
Most people tend to look forward to the cooler temperatures of fall, and your painting contractors are no exception. Not only does the cooler weather actually help in the drying of your paint, but the cooler temperatures also mean that your painting contractors are going to have a much less uncomfortable time completing your project. The cooler temperatures of fall allow us to work longer hours and allow us to do so without becoming exhausted as fast as we would during the summer, which not only helps us to get the project completed faster, but also helps us maintain a higher degree of accuracy and efficiency in our work as well.