Popcorn Ceiling Removal Charlotte NC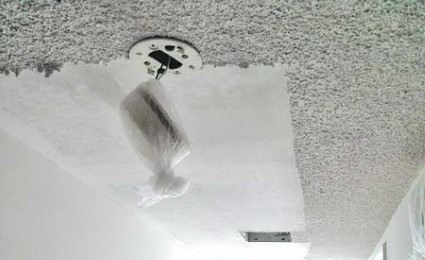 Are you ready for change? Popcorn ceiling finish was quite popular in the 1970's and 80's. Popcorn ceilings have some disadvatages such as tough to clean and re-paint. Paint Line Painting Company of Charlotte is here to help! We can provide Popcorn Ceiling Removal in Charlotte and surrounding areas with ease and will offer a new look, feel, and style to any room.
Preperation is the key! Your Charlotte Painting Contractor will take the time and care to properly protect you furniture, carpet or rugs, and anything else exposed to the removal process. After your popcorn ceiling is removed we will inspect any ceiling joints, make repairs as needed and refinish to a new ceiling of your choice! At Paint Line Paint Company it is our desire to provide 100% satisfaction!
Our Charlotte Popcorn Ceiling Removal Provides the Following Services
Popcorn Ceiling Remover
Textured Ceiling Removal
Remove Textured Popcorn Ceilings
Popcorn Ceiling Removers
Ceiling Texture Removal
Ceiling Texture Removal
Popcorn Ceiling Painting
Paint Popcorn Ceilings
Popcorn Ceiling Painters
---
Recent Popcorn Removal Related Articles
Dressing Up Your Room After Popcorn Ceiling Removal

One thing just about every Charlotte homeowner can agree upon is that popcorn may be great for the movies, but not so much for the ceiling. This style of textured ceiling was an instant hit that is now one of the number one least desirable details […]
If you are looking for a Charlotte Popcorn Ceiling Removal Contractor or Popcorn Ceiling Removal Company in Charlotte NC and surrounding areas then please call 704-819-7493 or complete our online request form.