Tips To Choose Colors For Any Painting Project In Charlotte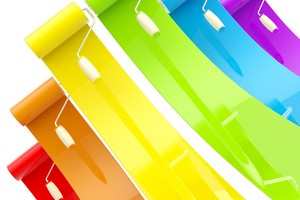 Color makes an impact on how we feel. For instance, bright yellow brightens mood and activity while deep purple brings us into a quiet, reflective state of mind.
Choosing the right color involves thinking about how you want to feel when spending time in a room. It's basically the psychological effect you want to invoke.
The psychology behind color and emotion has long been used for commercial marketing. Signs made of bright purple and yellow are found to attract attention and stand out from other colors. Hospitals use calming colors to help patients and the sick relax.
Too much of one color can blend everything together. Too many colors can cause agitation.
When painting your cherished home, there's some anxiety involved in choosing colors. Paintline Painting Charlotte, your Charlotte house painter offers the follow basic tips to help you choose.
Interior Painting Color Schemes
How do you find the right color scheme when painting the interior of your Charlotte home? First, think about what room you are painting and what activities will be done there.
Kitchen painting – The kitchen is a place to create fabulous food and enjoy time with family. Try using a robin's egg blue in the kitchen next to cabinetry. It can really be beautiful with the woodwork. Green is a nice, soothing color that reminds us of spices and earthy vegetables. There are so many shades and tones to choose from in both blue and green. Take a look around outdoors and look at photographs. Do any specific greens or blues speak to you?
Bathroom painting – Relaxing is the name of the game in a bathroom. Choose bathroom paint colors that make you relax. If you love the smell and look of fresh linen, try varying shades of white, cream, and tan as a color scheme. You can throw in some deep ocean blue accents, aquamarine, and a hint or two of coral or pink with red undertones.
Colors For Exterior Painting
If you are painting the exterior of your Charlotte home, take a look at how much area will be painted. If there is wood siding or paintable siding, there is a large area to cover. If it's only the wooden areas around brick or rock siding, you'll need to find something that looks good with the existing colors.
With brick or rock, look for flecks of darker or lighter colors and use those for the trim and accent. When the entire area is painted, you can start with any color you choose as the main color.
Finding exterior colors focuses on choosing the main color. The siding color is the major color. The trim, door, and window frames are the accents. Proportion the percentage of the colors generally in 60-30-10 quantities. The 60% being the primary, the 30% the secondary, and the 10% the accent. Use the accent and secondary colors to complement the main color.
What speaks to you? What colors are you drawn to?